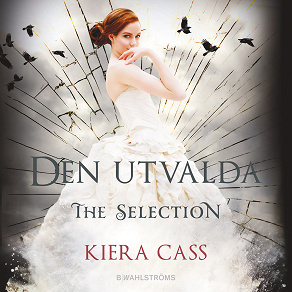 Isbn:
978-91-3216-914-4
Publisher:
B Wahlströms
Category:
Young adults
Accessible since:
January 2017
---
The Selection 3 - Den utvalda
Den utvalda är tredje boken av fem i Kiera Cass enormt populära serie. Hungerspelen möter The Bachelor i denna internationella bästsäljare.

America hade aldrig kunnat föreställa sig att det gick att finna äkta kärlek i en tävling som Urvalet. Men hennes känslor för Maxon har växt sig starka och konkurrensen är tuff, så med bara några veckor kvar innan allt avgörs måste hon jobba hårdare än aldrig förr för att vinna. Mot tävlingens slut intensifieras också trycket utifrån. Rebellernas attacker blir blodigare och brutalare, och America som egentligen står på rebellernas sida måste dölja sina sympatier. Hennes enda chans att verkligen förändra kungariket i grunden är att vinna tävlingen och tronen, och hoppas på att även Maxon har mod nog att stå upp för vad som är rätt.

The Selection - Den utvalda är tredje boken av fem i KIERA CASS enormt hyllade serie, såld i miljontals exemplar världen över.
---