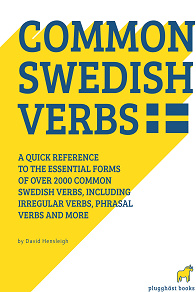 Isbn:
978-91-5193-507-2
Publisher:
Plugghäst Books
Category:
Language & Dictionaries
Accessible since:
December 2019
---
Common Swedish Verbs
A quick reference to the essential forms of over 2000 common Swedish verbs, which saves time and increases efficiency for students of Swedish as a foreign languague. Its simple conjugation tables make forms and meanings of more than 2000 commonly used Swedish verbs (including slang, regional and phrasal verbs) easily accessible, even to the beginner. The four regular verb groups are explained clearly and succinctly with separate sections on irregular and strong verbs.
---